Cream of Mushroom Soup Recipe
Prep time: 15 minutes

Cook time: 40 minutes

Yield: Serves 6
(If you want to make ahead and freeze, don't add the cream. Wait until it's defrosted, heated, and ready to serve to whisk in the cream.)
Ingredients
4 Tbsp olive oil (Willow Mountain Mushrooms Herb and Garlic Infused Olive Oil can be used here as it adds depth to and enhances the flavor of the mushrooms)

4 Tbsp butter

2 pounds of Willow Mountain mushrooms - use one or any combination of our mushrooms, (sliced 1/8-inch thick)

Large Onion minced

3 cloves garlic, minced

1 teaspoon Redmonds Real Salt (more or less to taste

3/4 teaspoon of dried tarragon or thyme (can be a combo)

4 cups Chicken or Veggie Stock

1/2 cup heavy cream

1/2 teaspoon freshly ground black pepper (more or less to taste)
Method
1. Heat olive oil on medium high heat in a 5-6 quart thick-bottomed pot. When the oil is hot, swirl in the butter. Once the butter has melted, add the sliced mushrooms, stir to coat with the olive oil and butter. Cook the mushrooms on medium high heat until they are lightly browned and have released most of their water. Remove 1 cup of the cooked mushrooms from the pot and set aside (they will be added back in later).
2. Reduce heat to medium. Add the minced onion and the garlic to the pot, stir to combine, cook for about a minute. Add the salt, dried tarragon (thyme), and the chicken (veggie) stock to the pot. Increase the heat to medium high, bring to a simmer and cook, uncovered, for 10 minutes. Remove from heat.
3. Using a stick blender or working in batches with a standing blender, purée the soup until smooth. Then return to the pot. (If the soup is too thick for you, add some water or more stock to thin the soup to the desired level of thickness.)
4. Whisk the cream into the soup and add the black pepper. Adjust salt and pepper to taste. Stir in the reserved cooked mushrooms.
~~~~~~~~~~~~~~~~~~~~~~~~~~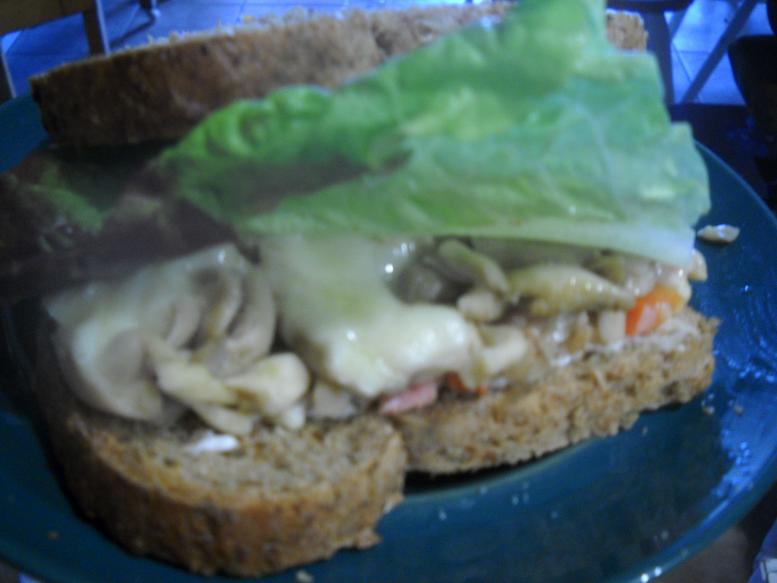 Oyster Mushroom Sandwiches anyone?!!!
Oyster mushrooms are my favorite mushrooms! So, when I saw Bob bring into the house a fairly large quantity of oyster mushrooms I had one thought...
Oyster Mushroom Sandwiches ~ is, "What's for dinner?!"
I saute'd sweet red onions and sweet red peppers along with the oyster mushrooms in butter, melted cheese on them and placed them on a slice of toasted hemp bread decked out with real mayo and red leaf lettuce. I ate my first one warm and fed everyone else in the house the sandwiches. Bob came back in an hour later and I had another with him - they were cold by that time - but still absolutely delicious!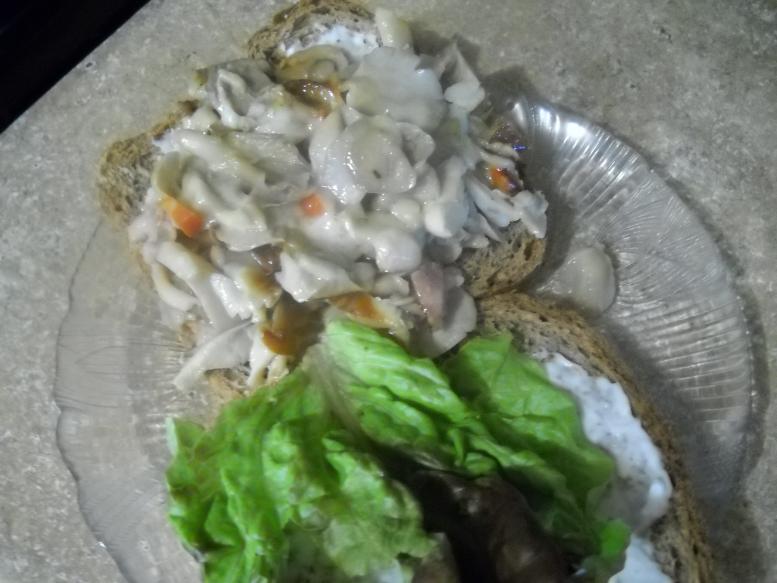 ~~~~~~~~~~~~~~~~~~~~~~~~~~~~~~~~~~~~~~~~~~~~~~~~~~~~~~~~~~~~~~~~~~~~~~~
Its the Saturday before Thanksgiving and all through the house not a pot is clean, not a counter uncluttered with recipes and food all around.
It is Holiday Season once more and off to the kitchens we go. Ahhh the wonderful food!
Here are a few new outstanding recipes to give a twist to your Holiday gatherings.
Willow Mountain Mushrooms Stuffed Portabella's
I created this recipe about 6 years ago and served it at the small church we belong to as our dish at potluck. It was around Thanksgiving. I made a HUGE batch with about 5 pounds of really small (my stir fry size.. or Baby Bella's) Portabellas. Not one was left for us to munch on at home. I wish you as much success!
If you would like to create a large number of these and would like us to deliver a 5 pound box to Mountain Home please feel free to
contact us
- we will be happy to meet you on Wednesday's or Saturday's when we make our usual delivery to Town and Country and The Truck Patch. We currently charge just $30 per 5 pound box... that is only $6 per pound!
Ingredients:
Dressing of your choice. Follow package instructions. I use chicken broth instead of water if the package says water. (a regular 12 oz package can easily stuff about 4 packages of mushrooms)
Portabella's or Baby Bellas or Crimini
Celery (chopped about 4 stalks - more or less as per your taste)
Onion (about a 1/2 of a red onion - chopped)
half of a 1 pound package of sage sausage per 12 - 16 oz pkg of stuffing mix (browned)
1/2 - 3/4 cup of grated Parmesan cheese
1 egg - beaten
Cabot Extra Sharp Cheddar - white (or your favorite cheese)
Olive oil (or your favorite cooking oil)
To make:
Pop the stems out of the shrooms - chop them in food processor or by hand.
Saute' chopped mushroom stems, chopped onions, and chopped celery in a little butter until the water from the shrooms is gone, the onions are starting to caramelize and the celery is soft.
Follow package instructions for the dressing using chicken broth. (add sage, salt and pepper to taste)
Oil mushroom caps (cap side... not gill side) place on baking sheet gill side up to accept the dressing mixture.
Mix together dressing, sauteed veggies, browned sage sausage, grated parmesan cheese, and beaten egg.
Spoon into the caps.
Bake in a 350 oven for approx 15 mins.
Have all the caps close together and grate the Cabot cheese on top or sprinkle a generous amount of pre-grated cheese of your choice. Spread the shrooms back out.
Return to oven for an additional 15 mins or until the cheese is golden and bubbling.
Serve warm out of the oven.

~~~~~~~~~~~~~~~~~~~~~~~~
Willow Mountain Mushrooms Portabella Stuffing
Ingredients:
4 stalks celery, chopped
1 onion, chopped
6 oz pkg of Willow Mountain Mushrooms Portobello Mushrooms, sliced
1/2 a 4 oz pkg of Willow Mountain Shiitake Mushrooms, sliced
6 oz pkg of Crimini Mushrooms, sliced (Crimini are Portabella that have not matured and opened)
2 cloves garlic, minced
1 (12 ounce) package dry bread stuffing mix
3 (14.5 ounce) cans chicken broth
Directions:
Preheat oven to 350 degrees F (175 degrees C).

In a skillet, cook and stir celery, onion, mushrooms, and garlic for 3 minutes. Stir in one can of chicken broth and cook until vegetables are tender. Combine mushroom mixture with bread crumb stuffing. Pour packet of seasoning over dressing mixture and toss to coat.

In a 2 quart saucepan, heat remaining chicken broth until hot. Pour broth over mixture. Stir well.

Pour stuffing into a 2 quart casserole dish and bake for 30 to 40 minutes.
Portabella Stuffing serves/makes 8
~~~~~~~~~~~~~~~~~~~~~~~~~~~~~~~~~~~
Gluten Free Portabella Stuffed Acorn Squash

(it doesn't have to be gluten free - just use your favorite bread or already made stuffing cubes.)
IngredientsStuffing:
24 oz. gluten FREE bread, cubed (any type works, even bread that isn't
that tasty)
1 tbsp. Olive oil
1 tbsp butter
1 medium onion, diced
2 medium carrots, diced
1 package of Willow Mountain Portabella mushrooms, diced
1/4 cup walnut (or pecan) pieces
1 1/2 teaspoon poultry seasoning
1/2 cup fresh basil or other herb
1 cup warm vegetable broth
1/2 tsp. Black pepper
1/2 tsp. salt

For the Squash:
4 medium acorn squash, halved, with seeds removed
1 cup water
1/2 cup ginger ale
1/4 cup orange juice
2 tsp low sodium tamari
1 tsp honey
juice of a lemon
pinch of cayenne pepper

DirectionsStuffing Instructions:
1) Place bread cubes on cookie sheet and dry them for 20 to 30
minutes in a 250 degree oven, uncovered.
2) Heat olive oil and butter in a large saute pan. Add onion and
carrots, and saute over medium heat for 3 minutes until lightly
caramelized. Add mushrooms, nuts, and poultry seasoning, continuing
to saute for 2 minutes. Add fresh herb, and transfer to a large
mixing bowl, then add dried bread cubes, and mix well with broth. Let
sit for 30 minutes until bread absorbs all the liquid and the
stuffing is fluffy. Season with salt and pepper. Set aside.

Squash Instructions:
1) Preheat oven to 375 degrees F. Place squash halves cut-side-down on
a cookie sheet lined with foil, or use a nonstick pan. Add 1/2 cup
water and bake for 30 to 45 minutes, until nearly tender.
2) Combine ginger ale, orange juice, tamari, honey, lemon juice
and pepper. Mix well and set aside. Place squash cavity-side-up in a
roasting pan. Brush generously with the glaze. Fill the cavity of
each squash with the mushroom stuffing, using an ice cream scoop or
large spoon. Pack stuffing in the cavity, forming a uniform mound.
3) Pour 1/2 cup water in the pan and bake 30 minutes, until squash
is lightly browned and stuffing is thoroughly heated.

We hope you enjoy your Holiday's with many family and friends.

Come back often as we will be adding more recipes!
~~~~~~~~~~~~~~~~~~~~~~~~~~~~~~~~~~~~~~~
9-8-10
Bob made a delivery to The Truck Patch and made deliveries yesterday to West Plains - Howell Valley Grocery and A La Carte Cafe (A La Carte is featuring our portabella in a portabella bisque this week)
On that note here is a Portabella Bisque recipe I found at
ifood.com
. I hope you enjoy it!
Ingredients:
4 tablespoons unsalted butter
2 leeks, white and light green parts only, halved lengthwise and thinly sliced
1 large yellow onion (about 12 ounces), chopped
3 large portobella
mushrooms
(about 1 pound), wiped or brushed clean, and chopped
3 tablespoons all-purpose flour
fresh thyme leaves
1 bay leaf
6 cups Chicken Stock or canned low-sodium chicken broth
1 teaspoon salt
1 teaspoon sugar
1/2 teaspoon freshly ground pepper
1 cup heavy (whipping) cream cup minced
fresh parsley
How to make Portobella Mushroom Bisque
In a 6- to 8-quart saucepan, melt the butter over medium heat.
Swirl to coat the bottom of the pan, and saute the leeks and onion stirring constantly, until slightly softened and well coated with butter, about 2 minutes.
Lower the heat, cover the pan, and cook for 30 minutes, stirring occasionally.
Add the mushrooms, stir to combine, cover, and cook 10 minutes longer.
Raise the heat to medium, stir in the flour, and cook 3 minutes.
Add the thyme, bay leaf, stock, salt, sugar, and pepper.
Simmer, partially covered, for 10 minutes.
Cool the soup slightly, discard the bay leaf, and then puree the soup in batches in a blender or food processor fitted with the metal blade.
Return the pureed soup to the saucepan and add the cream.
Cook over low heat until heated through, but do not let the soup boil.
Taste and adjust the seasonings.
Ladle the soup into a warmed soup tureen or individual bowls, garnish with the parsley.
~~~~~~~~~~~~~~
Willow Mountain Stuffed Mock Fillet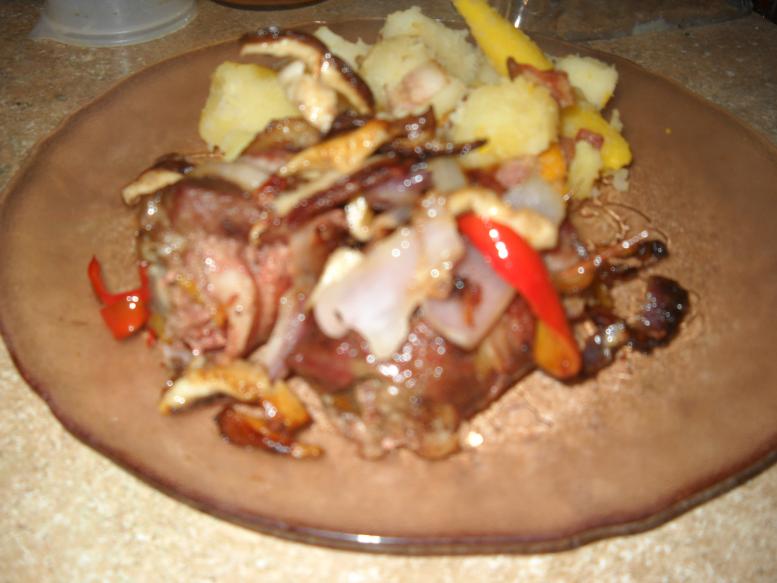 Ingredients:
Mock beef fillets - pounded
Sweet Peppers and Sweet Red Onions
2 Pkgs of Shiitake Mushrooms
a pkg of Natural Bacon
Pound the mock fillets flat. Slice the peppers and onions into long thin slices. Put a couple of slices of the peppers and onions on the fillet and roll it up. When you get to the end place the tip of a slice of bacon on it so that as it is wrapped the beef will help hold it in place. continue to roll so that the bacon covers the beef. Use a toothpick to hold the loose end in place. Drizzle some olive oil in the bottom of a roasting pan that has a lid. I use an old granite ware type. Place all your lovely mock fillets in the roaster. Bake in the oven on 350 for about 40 minutes or until cooked through. Remove from roaster to a cast iron skillet to 'fry' the bacon and brown the outside.
Make long thin slices of Red onions, sweet peppers and the Shiitake. In a small skillet pan fry with butter.
To plate put on 2 fillet wraps and top with the Shiitake blend. Pictured is a side of pan fried potatoes with bacon, sweet onions, and sweet peppers.
The mock fillets were sweet and tender.
~~~~~~~~~~~~~~~~~~~~~~~~~~~~~~~
Willow Mountain Mushroom Medley Stir Fry
From this: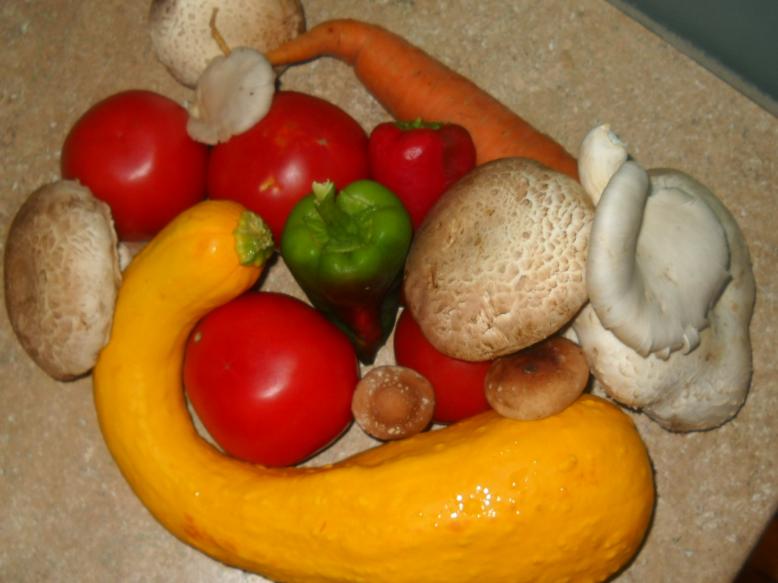 To this: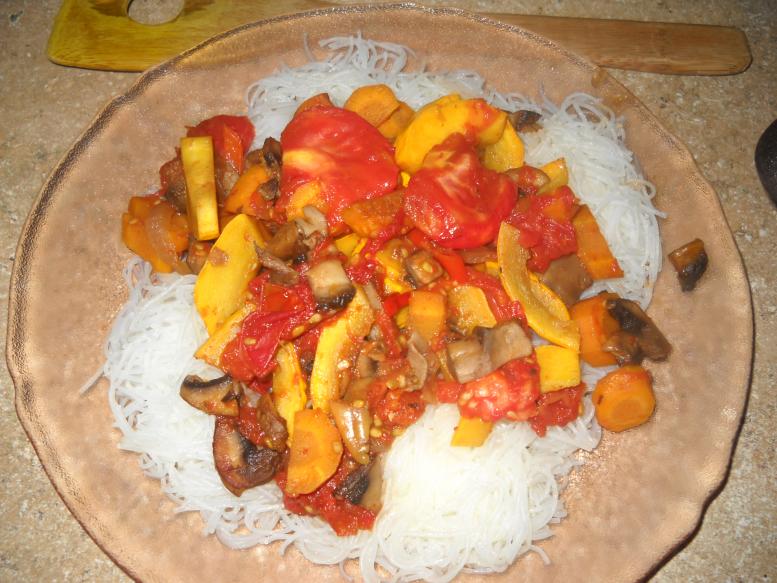 A completely Gluten Free Veggie Meal fit for a King!
A few weeks ago I was challenged to create a balanced meal from things that are grown locally. I took up the challenge and this is what I created. Using only the produce we grow here along with rice noodles.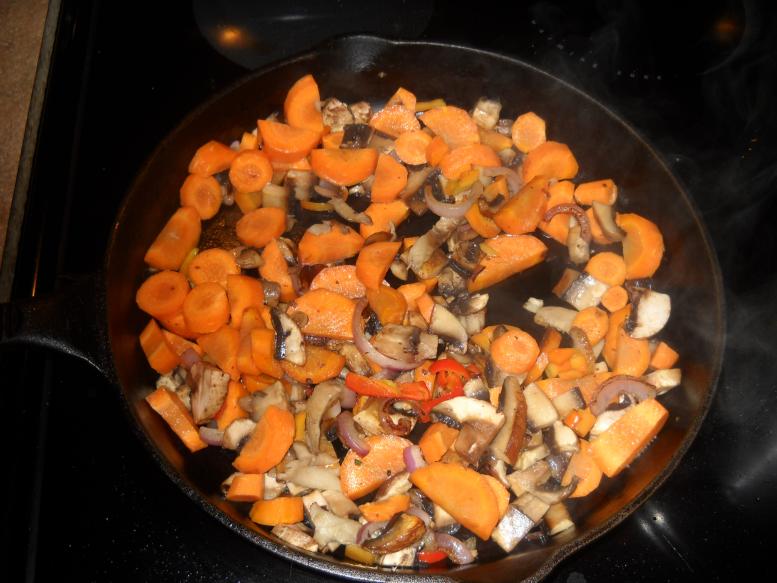 I started with a cast iron skillet on a medium high heat with Napa Valley Naturals Extra Virgin Olive Oil. Added onions, sweet Jimmy Nardello and Patio Red Marconi Peppers, and a variety of our mushrooms: a very large open white button called a Porta Blanca (has the mellowness of the button with a more robust meaty texture and flavor of a Portabella), Portabella, Shiitake, and Oyster. While that was cooking down I prepared carrots freshly pulled from the garden and added them to the pan. Salt and Pepper.
Then I prepped the Gold Crook Neck Squash. First, I want to collect the seeds for next years planting. This squash was big and beautiful. Not at all tough or tasteless! What Flavor! What Yummy deliciousness! People tell me to pick them small.... I really don't think you have to if you are getting them fresh.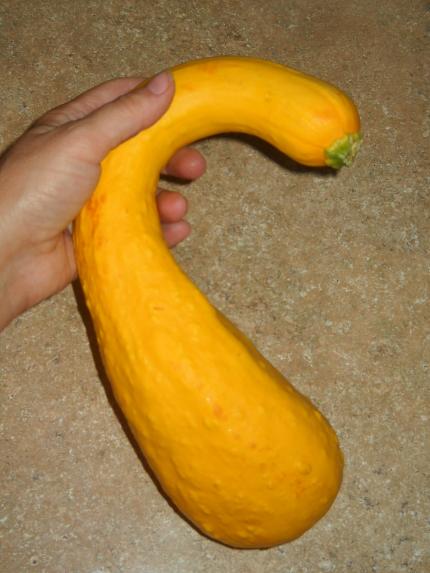 First I cut the neck into medallions. Then I sliced the rest of it in half and scooped out the seeds to separate, dry and store for next year. I can taste the new crop already!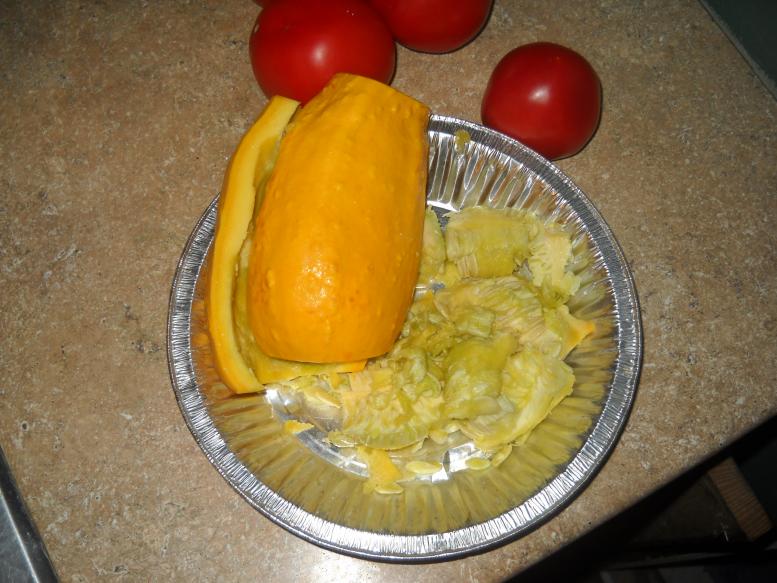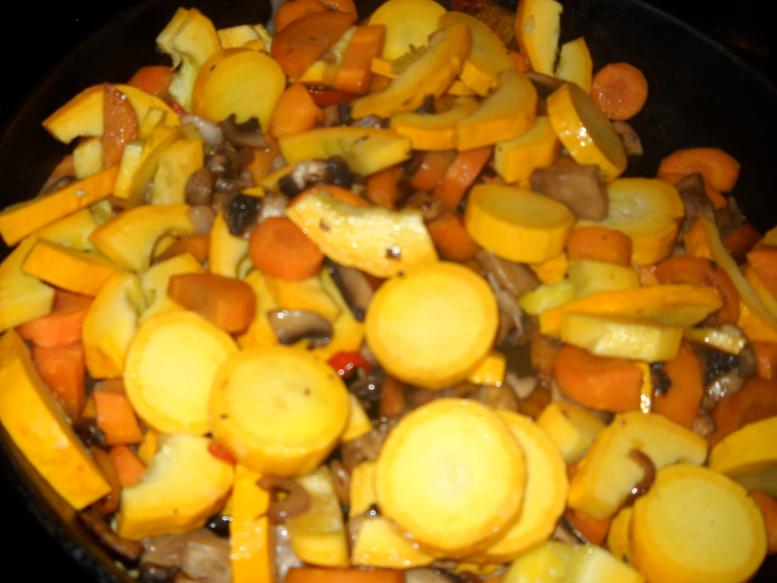 I just added and mixed them into the pan and started on the tomatoes. Here is a pic of one of the beauties that went in. It is a Mushroom Basket Heirloom Tomato.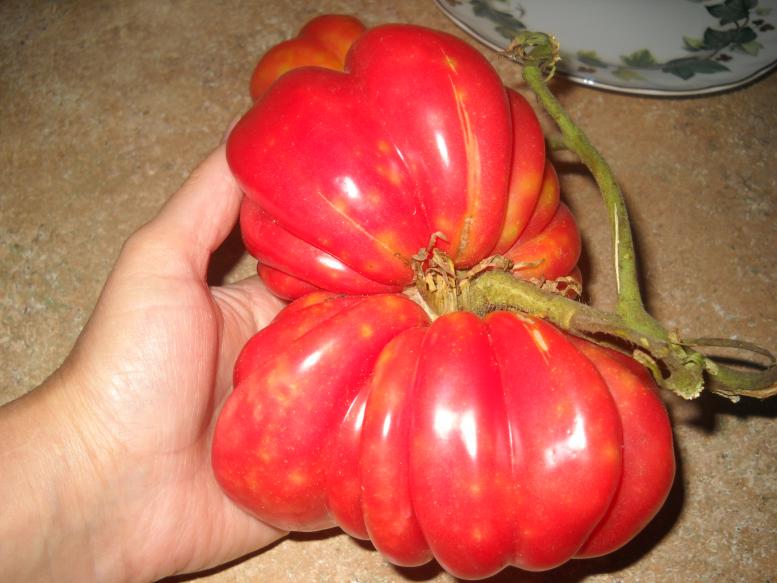 (Now, you would think that with all those gorgeous pleats in it that the skin would be weird or tough... but it is not at all. It is thinner than you would expect, easy for fresh eating, hardly any seeds and nearly no gel like stuff from around the seeds. Tastes wonderful fresh and when you go to can it... a breeze to remove the skin! I thought it was going to give me fits to get the skin out of the pleats, but not at all! Just dropped it in boiling water like usual and the skin came right off. Looks really neat in the jar... as it kept its pleated shape. What a great all purpose tomato! Now on the top of my list of pink tomatoes!)
Just slice, dice, and stir it in. Put the lid on the pan and let it all simmer for about 5 mins.
This is what it looked like in the pan ~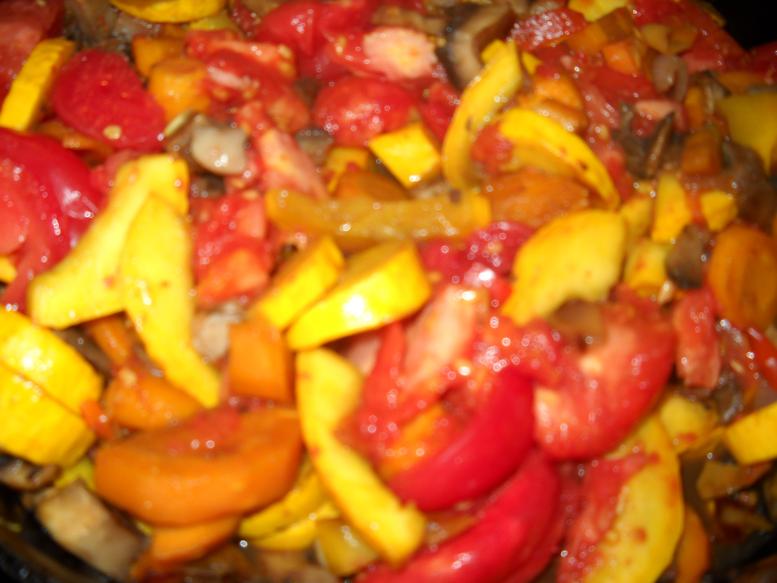 It was wonderful served over rice noodles and we just sprinkled a little organic/real soy sauce over it.
_____________________________________________________________
Willow Mountain Creamy Chicken and Shiitake Pot Pie
What you will need for the filling:
whole chicken prepared the day before (boil with an onion and sacrificial carrots and celery as well as your favorite herbs like sage and rosemary. Reducing liquid to half. Put it in the fridge overnight. The liquid will gel up... this is REAL gelatin and is absolutely so good for you! As well as 10 times more delicious than anything you can buy in a can!)
Spices and herbs of your choice. I like to use Redmonds Real Salt, freshly cracked peppercorns, sage, rosemary, thyme, and basil.
2 pks of Willow Mountain Shiitake Mushrooms ~ remove stem and slice
About a pound of fresh carrots sliced
One red onion
Potato Flour
----------
For this "top crust" only chicken pot pie I made a gluten free biscuit type of crust and added about a quarter cup of fresh ground flax meal for added omega 3's. I use a combination of organic flours and starches: white and brown rice flours and corn starch with guar gum and gf baking powder (baking soda + cream of tartar) - an egg and salt and pepper to taste.
----------
First I saute'd the onion and shiitake in a cast iron skillet then added the carrots to soften them.
While that is going on low-med heat I work on removing the chicken from the bone. It literally is falling off. It doesn't matter how poor the chicken was... I mean it could have been a five year old hen! It is tender now!
I stir together the gelatin that helped tenderize the chicken overnight in with the chicken I had just removed from the bone and a quarter cup of Potato Flour.
At this point the Shiitake and Carrots are ready and I stir them into the chicken mixture. Put on its hat... the gf top crust... and bake for about 30 mins - basically a long as it takes to brown the top. I use a 2" deep round baking dish.
Here is the finished product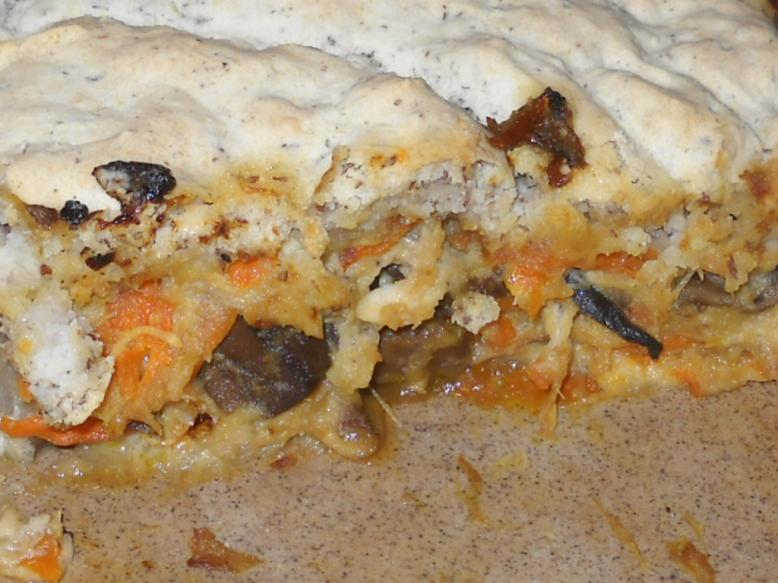 ________________________________________________________________
The following recipes are from the e-newsletter we used to put out weekly.
Portabella Burger
Remove the stem, put it on the grill with the gill side down, baste it with real butter and sprinkle with sea salt. As the sides start shrinking in, flip and baste the other side. Cook three to five minutes on each side. Enjoy on a bun or in a wrap topped with your favorite veggies. We enjoy adding sauteed sweet onions and peppers, fresh from the garden shredded cucumbers, mayo, diced heirloom tomatoes, and shredded Cheese. I use the Cabot White Extra Sharp Cheddar. However, lots of other cheeses work just as well ~ experiment ~ there is no right or wrong here. Let your taste buds tell you what you prefer.
~~~~~~~~~~~~
Grilled Portabella wraps
Grill the portabella with Redmond's Real Salt and butter (not margarine) and dice it on a cutting board. While it is on the grill we are sauteing up sweet onions and sweet peppers in butter and real salt (we do not use iodized or bleached salt).
On a fajita size tortilla we place the diced mushrooms, peppers, and onions. Grate on some Cabot Extra Sharp Cheddar Cheese to melt into the shrooms, peppers, and onions. Then top it with grated cucumber and real mayonnaise (the two mix together and make a refreshing cucumber sauce-yum!). Now, see if you can roll it up! We usually have so much on it that it can be hard to do without spilling some out and you have to use your fingers or fork to finish it up. With a side of some sort of healthier chip (not the norm in the grocery store) and a gluten free cookie for dessert. YUM!
~~~~~~~~~~~~~~~~~
Grilled Teriyaki Portabella Burger
4 Portabellas (two of our 2 packs)
2 cups teriyaki sauce
4 rolls (soft french bread and kaiser are nice) and your favorite garnishes
Place Portabella in a large bow. Add teriyaki sauce. Toss until each mushroom is well coated. Toss every 15 minutes for 45 mins to an hour.
When coals are gray and ready or med/high propane or indoor grill, place on the grill and cook each side for 5 minutes. Remove.
Place on roll and top with your favorite garnish: lettuce or spinach, thinly sliced onions, and tomatoes lend themselves well with the portabella that has been marinated in this way.

~~~~~~~~~~~~~~~~~~~~~
Creamy Mushroom Soup
1 large onion
1/8 cup butter/olive oil for saute'
3 TBL flour
1 cup milk
1 can of chicken broth (or veg. broth)
1 cup of peas
4 large carrots (finely chopped or shredded)
10 potabella mushrooms (chopped small)
1 cup half and half salt and pepper to taste
1/8 cup parsley
Heat skillet and saute' the onions in butter or oil until transparent and golden in color. Set aside.
In another saucepan, create thickening mixture by sauteing flour in a small amount of butter over medium heat until brown then slowly pouring milk into pan.
In a large pot remaining ingredients (broth, peas, carrots, parsley, mushrooms, and half and half). Add thickening sauce from step 2. And sauteed onions. Cook over low heat for 1 to 1.5 hours. Serves 6
~~~~~~~~~~~~~~~
Willow Mountain Mushrooms Cream Cheese and Mushroom Dip (or Fajita filling)
1/2 # of sage sausage (can substitute with hamburger, turkey burger, package of portabella, or omit)
1 small can of red beans (I used organic)
1 small can of tomatoes with chilies (ie: red gold brand or rotelle)
1 package of portabella mushrooms (for a total of two pks if subbing the meat for shrooms)
2-8oz packages of cream cheese
Brown sausage and put to side.
Dice Portabella into small pieces.
Saute mushrooms in butter or olive oil - salt and pepper to taste.
Mix together on low heat: browned sausage, sauteed portabellas, red beans (drained and rinsed), tomatoes with chilies, and cream cheese. (Can use a crock pot for this)
Stir continuously as the cheese melts and blends with the other ingredients.
Serve as a warm dip with tortilla chips or as a filling in a fajita wrap. If using as a filling you can also top it with shredded lettuce or spinach and even your favorite shredded cheese. Experiment and send me your variations!
~~~~~~~~~~~~~~~~~~
mayonnaise–Grilled shiitake mushrooms
Serves: 4
ingredients:
8 shiitake mushrooms
2 grated garlic cloves
6 tablespoons mayonnaise
1/2 teaspoon soy sauce
suitable amount salt suitable amount pepper
1. Wipe shiitake mushrooms with a wet paper towel. Cut off the stems.
2. Put shiitake mushrooms on aluminum foil and sprinkle with salt.
3. Mix mayonnaise, grated garlic and soy sauce together.
4. Spread seasoning mixture (Step 3) on shiitake mushrooms.
5. Sprinkle with pepper.
6. Bake in a toaster oven for six minutes.
comment: This dish is especially delicious steaming hot.
~~~~~~~~~~~~~~~~~~~~~~~~~~
Grilled Shiitake and Vegetable Kabobs with Herb Butter
1 package (3 ½ ounces) Shiitake Mushrooms
1/4 cup butter
4 teaspoons chopped fresh thyme leaves or 1 ¼ teaspoons dried thyme leaves, crushed
1/8 teaspoon salt
1 1/4 cups zucchini sliced ¾-inch thick
1/2 cup sweet red bell pepper cut in 1-inch squares
1/2 cup yellow bell pepper cut in 1-inch squares
Prepare outdoor grill or preheat broiler. Remove stems from Shiitake Mushrooms (use in stews, to flavor broths, etc.); quarter mushroom caps; set aside. In a small saucepan place butter, thyme and salt; heat and stir until flavors blend, about 1 minute. On skewers thread reserved mushrooms alternating with zucchini and red and yellow peppers. Place on a rack over outdoor grill or in a broiler pan, 3 inches from heat source. Brush with butter mixture. Cook, brushing with herbed butter and turning skewers frequently, until vegetables are tender, about 5 minutes.
Yield: 4 portions
~~~~~~~~~~~~~~~~~~~
Grilled Shiitake Mushrooms
These grilled shiitake mushrooms can replace any burger or serve them as a side dish to just about any meal.
Serves 4-6
Ingredients:
1 package Willow Mountain Mushrooms shiitake mushrooms - stems trimmed away and brushed clean with a paper towel - choose a package with larger Shiitakes
1/4 cup of fresh lemon juice, or juice from 2 lemons
1/2 cup of Willow Mountain Mushrooms Herb and Garlic Infused Extra Virgin Olive Oil
2 garlic cloves smashed (with the side of a knife), skins removed & chopped fine
3-4 anchovy fillets (or equivelant amt of anchovy paste)
1 tablespoon of chopped fresh thyme
1 tablespoon of chopped fresh marjoram
Salt and pepper to taste
Method: In a small food processor or blender, puree the lemon juice, olive oil and anchovies. Transfer to a bowl and stir in fresh herbs and season to taste with salt and pepper. Place marinade and mushrooms in a large bowl so marinade will cover the mushroom caps and marinate for at least 20 minutes and or up to 1 hour.
To Grill Mushrooms:
Place mushrooms over medium low heat on grill, gill side up. Grill mushrooms, until marked and softened about 4 minutes. Turn mushrooms and grill about 1-2 minutes (be careful as to not char the gills), until fork tender. Serve immediately
~~~~~~~~~~~~~~~~~~~~~~
Grilled Beets in Rosemary Vinegar
Ingredients
1/3 cup balsamic vinegar
1 teaspoon chopped fresh rosemary
1 clove garlic, peeled and crushed
1/2 teaspoon herbs de Provence
3 medium beets, sliced into rounds
Directions
1. In a medium bowl, mix balsamic vinegar, rosemary, garlic, and herbes de Provence. Place beets in the mixture, and marinate at least 20 minutes.
2. Preheat an outdoor grill for high heat, and lightly oil grate.
3. Place the beets and marinade mixture on a piece of foil large enough to wrap all ingredients, and seal tightly. Place the foil packet on the prepared grill, and cook 25 minutes, or until beets are tender.
4. Remove beets from the packet, and place directly on the grill grate for 2 to 5 minutes before serving hot. Yield 6 servings
~~~~~~~~~~~~~~~~~~~~~
Grilled Beets
8 medium-sized beets(1 1/2 – 1 3/4 pounds)
2 Tablespoons olive oil or canola oil, or more as needed
Salt and freshly ground pepper
1. Prepare a medium fire in the grill. A lightly oiled vegetable grill rack is optional but recommended.
2. Scrub the beets well. Cut the tops and roots off the beets. Slice the beets about 1/4 inch thick. Place in a bowl and toss with the oil until all the surfaces are well coated.
3. Grill the beets, turning or tossing a few times and brushing with more oil if desired, for 15 to 20 minutes. The beets are done when the slices are lightly charred and flexible. Taste one to be sure.
4. Remove for the grill and place in a serving bowl. Sprinkle with salt and pepper and serve hot.
The earthiness of the beets came through by grilling them. This recipe is basically just slicing the beets, tossing in olive oil and throwing on the grill. Can't get easier than that. And, it's a unique and unexpected addition to any barbecue.
~~~~~~~~~~~~~~~~~~~~~~~~~~~~~~~~~~~~
I just love Oyster mushrooms... and grilling (because that means Bob is cooking and the kitchen stays cool!). So, todays recipe features them combined, though this can be done indoors too.
Oyster Mushrooms are so good for us. They have more potassium than a Portabella which has more potassium than a banana. On top of that it is the leading source of a special antioxidant ~ LE (L- ergothioneine) which hs been shown in studies to reduce tumor size. The Oyster mushroom has also been shown in studies to decrease serum and liver cholesterol levels. Here is a link to read more about their many benefits.
There are so many ways to cook up oyster mushrooms.
My fav way is just so simple I wouldn't consider it a recipe:
Heat cast iron skillet and put in 2 T of Butter to melt.
Cut off stem and reserve for use in stocks.
Tear 'petals' following the gills right into the skillet.
Slice up a small onion and put in the skillet with the Oyster mushrooms.
Cook on high until the mushrooms are browned on the edges and the onions are clear.
Top with freshly grated cheese (I tend to use an organic naturally white cheese that is not pasteurized or Cabots x-tra sharp cheddar)
Put onto a plate and serve with a fork or in a wrap.
I sometimes even cook up some fresh veggies with it ... when our sugar snaps were going I used them with it and made veggie wraps. They were delish!
~~~~~~~~~~~~~~~~~~~~~~~~~~
Mid Week Recipe:
Grilled Oyster Mushrooms
2 tablespoons fresh orange juice
1 tablespoon fresh lemon juice
2 teaspoons red-wine vinegar
6 tablespoons olive oil
2 lb large oyster mushrooms, stems trimmed
1/2 teaspoon Redmonds Real Salt
Special equipment: a perforated grill sheet
Whisk together juices, vinegar, and oil in a large bowl. Toss mushrooms with vinaigrette and marinate 15 minutes. Transfer mushrooms to another bowl with tongs, reserving vinaigrette.
Prepare grill for cooking. If using a charcoal grill, open vents on bottom of grill, then light charcoal. Charcoal fire is hot when you can hold your hand 5 inches above rack for 1 to 2 seconds. If using a gas grill, preheat burners on high, covered, 10 minutes, then reduce heat to moderately high.
Grill mushrooms in 3 batches on oiled grill sheet set on grill rack, with grill covered only if using gas grill, turning frequently, until golden brown, about 5 minutes per batch. Transfer to vinaigrette as grilled, then toss with sea salt.